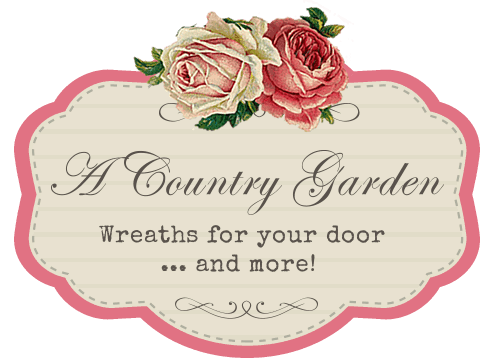 Hello and welcome to the very first blog post for A Country Garden. I am beyond happy to finally be blogging and hope you will join me on this journey.  I plan a variety of topics: a lot of decorating tips for seasons, holidays and everyday, some recipes, my gardening journeys, of course some horse related "stuff" and even some art!
I want to share with you tips and tricks I have learned along my life's highway and, of course, I will keep you up to date with what I am tackling in the WREATH WORKSHOP and give you first peeks of things to come and new ideas for my floral designs because I truly love designing and creating one of a kind creations for you!
First let me give you a little background info on how this blog "dream" got started. I love decorating and planning and projects. It was a gift I received from my wonderful mother, who was my mentor, my best friend, my teacher, my Christian role model (along with my sweet, wonderful daddy) and they were my biggest cheerleaders. They both told me that I could accomplish anything I set my mind to. She did and so did he. No project was too involved or too large or too complicated…"just go about it systematically" was her motto. And, so I come by this planning and projects "gene" naturally and I felt that I might have some inspiration, ideas, or tips to give to you. And voilà, A Country Garden blog was born.
I love to cook; so I plan to share some time honored family favorite recipes and some of the stories that go with them as well. I learned from the best, my mother and grandmother.
Decorating is intriguing to me and I especially love creating vignettes with treasured pieces. Rich patinas of copper and wood are favorites of mine. BUFFALO CHECK is my new favorite material!!
Gardening and nature are such a special part of my life. However, some health issues in the past couple of years have caused the garden to get a little shabby. So I am in the process of planning, of updating, of rearranging and adding to the garden. And, as you know if you garden, it is a never ending process.
In 2018, several projects are on the drawing board, so you can get a glimpse into some big changes (for me): some in décor, many in the garden, the beginnings of a kitchen re-do and more.
My style? I love farmhouse, but without the industrial side. I love cottage style. And, being a retired French teacher, I love French country "farmhouse" style. (Is that redundant – country farmhouse? Oh well…). Earth colors are my favorite hues and I will tell you right now that I am not gray person at all. Soft creams, tans, beiges and browns, soft spring flower colors and rich fall hues are my palette. But, above all, green is my signature color- just sayin'.
Please comment and let me know what you think or if you have questions or ideas!! I so look forward to getting know you and you getting to know me.
So happy to be in the blogging world!!!
Karon