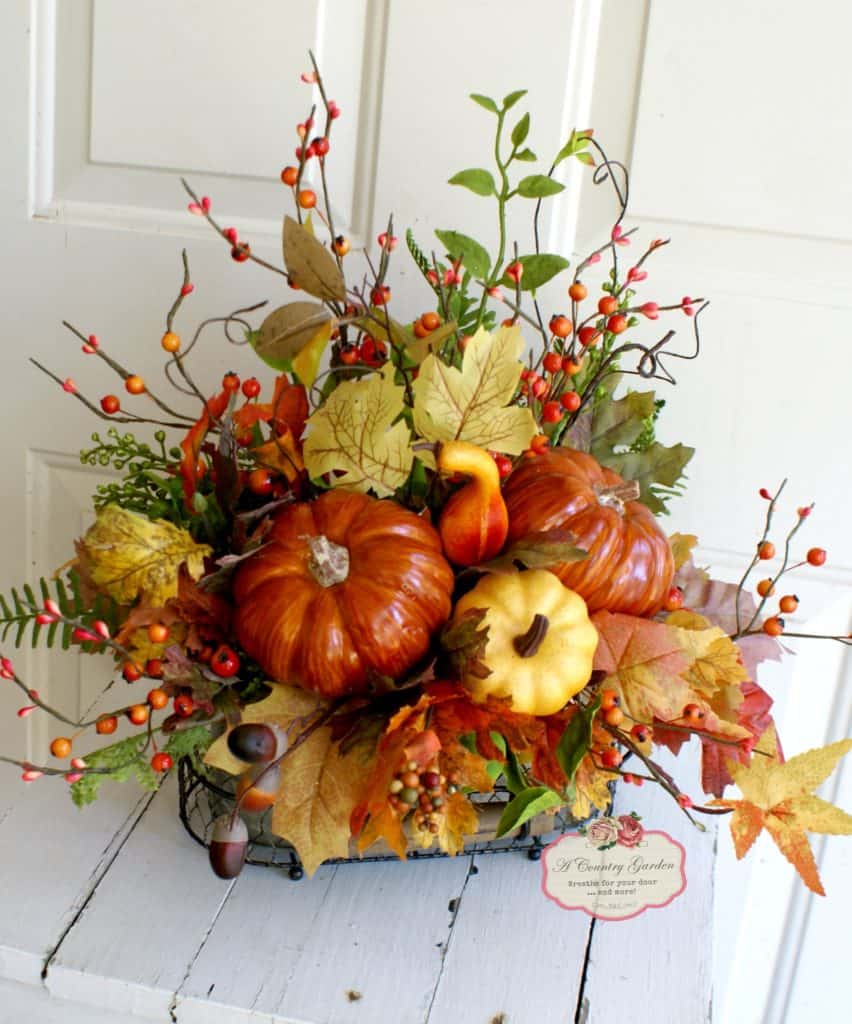 Yep, it's July and time to start thinking FALL DÉCOR!! I love fall, and especially fall decorating, so much that I can't help myself and I start early to enjoy every minute of decorating!
I know – most people start in September, but then you only 30 days of fall décor.
Once September gets here, things start to move fast in the decorating world, don't they? Boom it's time for Halloween! Then Christmas!
I want to give you some tips that will make decorating easier, less stressful and lots of fun!
I admit it. I have fun decorating for all the seasons and holidays, but there is something about fall décor coming out that I absolutely love! Maybe it's the promise of cooler weather coming to Texas!
Here are my tips to help:
I actually start my planning in July:
Inventory what you have on hand
Pick a theme or style: rustic, country, cottage or farmhouse (even French farmhouse) or color
Pick a color scheme as well – mossy greens, golden yellows, tans,
Want to try a trendy new color this year? Be sure to write it down.
Make a lists: what you might need to get for this year, places you want to decorate, vignettes…
I love to go through the house on a sort of decorating scavenger hunt so to speak and find things that I already have and that will work well with my theme. You've got more than you realize.
Think outside the box!!
The theme I love for "Early Fall Decorating"
I start with faux sunflowers and "ease" into fall décor. (In fact, I even love to start the sunflower craze in July!) And then, sunflowers, become my theme for August! Easy Peasy!
Your flowers, colors and themes may be different of course.
Add in some fall leaves, a couple of pumpkins here and there to start and then keep going through August. I love to incorporate denim with my August fall décor and carry it through September
By September you can add garlands, swags, wreaths, lantern swags and more arrangements inside and out.
And, by the way, sunflower wreaths and swags work beautifully for late summer, too.
I love to go through the house on a sort of "decorating scavenger hunt" and find things that I already have that will work well with my theme. You've got more than you realize. And, its just plain fun!!
Sunflowers are summery but work very well with fall decorations.
A couple of other tips that work well for me and hopefully for you as well.
Inventory what you have on hand you can use and especially items you love.
List new things you want to get this season or a new color you want to incorporate.
Be sure to make lists – lists work and you feel so satisfied when you can check things off! I love to check off completed tasks.
Check store websites often get things likes trays, baskets, metal containers, candles, etc. when they are on sale! Always try to buy those that work well in multiple seasons/holidays/everyday!
Oooooh – a reason to go shopping!!
Some color combos I love for fall!
Those golden sunflowers work well with deep reds for late summer into early fall décor. Add in some mossy greens and olive greens. Lighter yellows and deep oranges also work well in late autumn décor going into fall. You can add in tans, creams, light browns to give your vignettes and décor some added depth.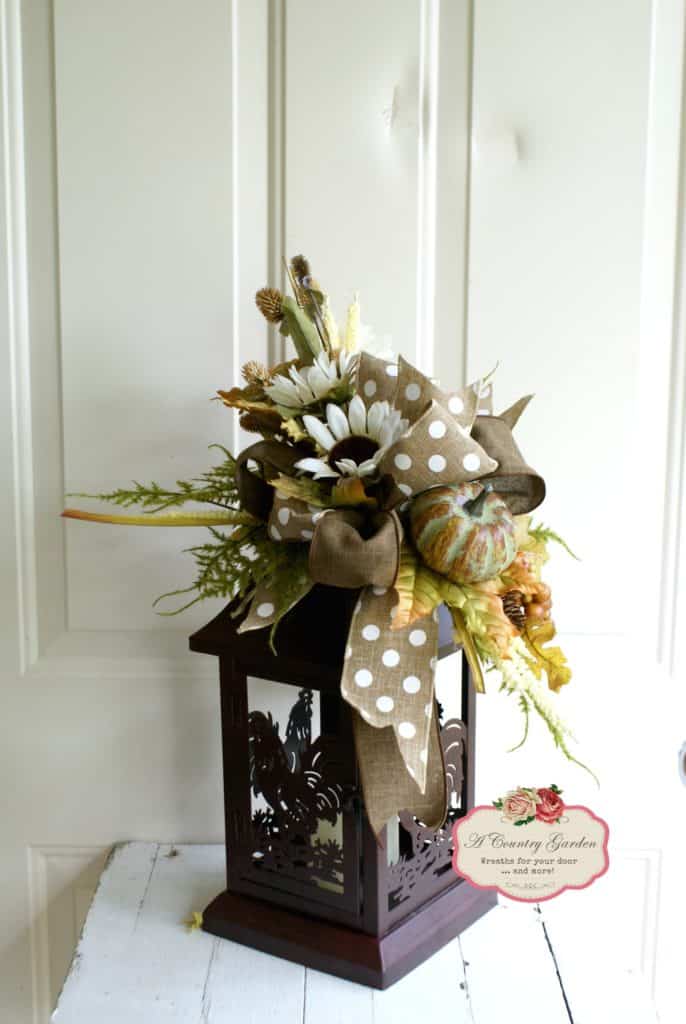 Navy and teal seem to be trendy colors for blues with fall décor. I love denim blue, both the light and the dark for a accent.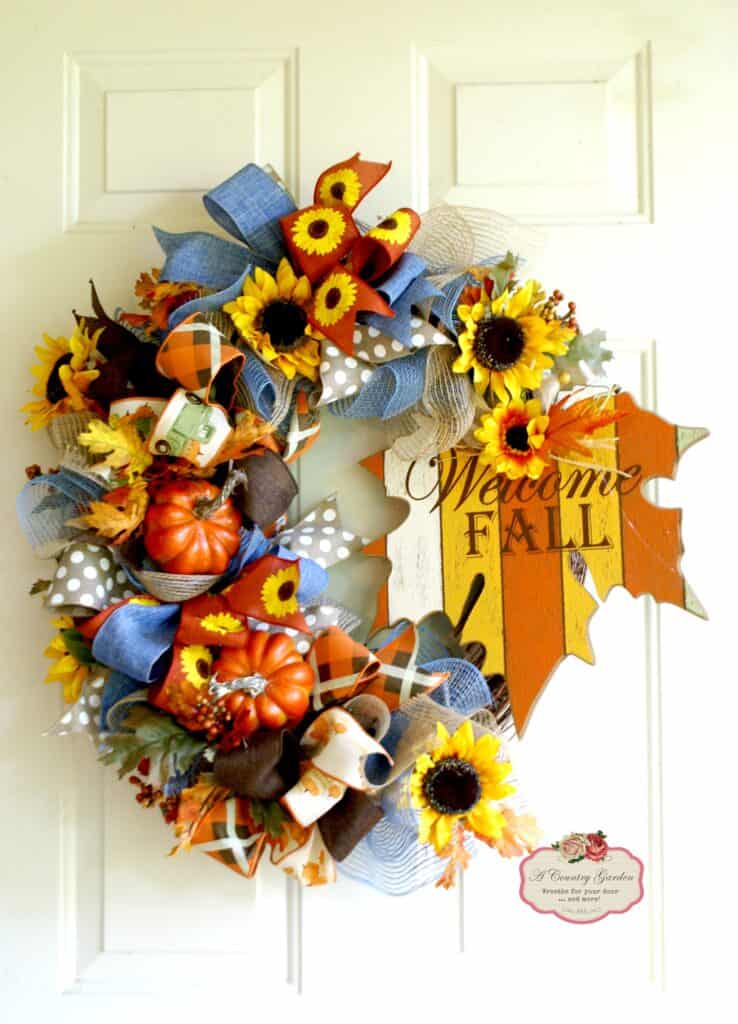 By planning in July and then implementing your plans in throughout August, you are read for an all-out fall decorating blitz come September. You'll be way ahead and only have to add in pumpkins (when they become available), more autumn leaves…you get the picture. Less stress. More fun. And gorgeous décor.
Extra Hint: Be sure to choose items that can blend in with Halloween décor as well by the end of September so you only have to "add in" items not start completely over.
The most important thing is that you choose what speaks to you, what you love and what works in your home décor.
But, most of all – HAVE FUN!
Be sure to check out all our summer and fall décor in our Etsy shop: www.acountrygarden.etsy.com
Happy Fall Decorating!
Karon