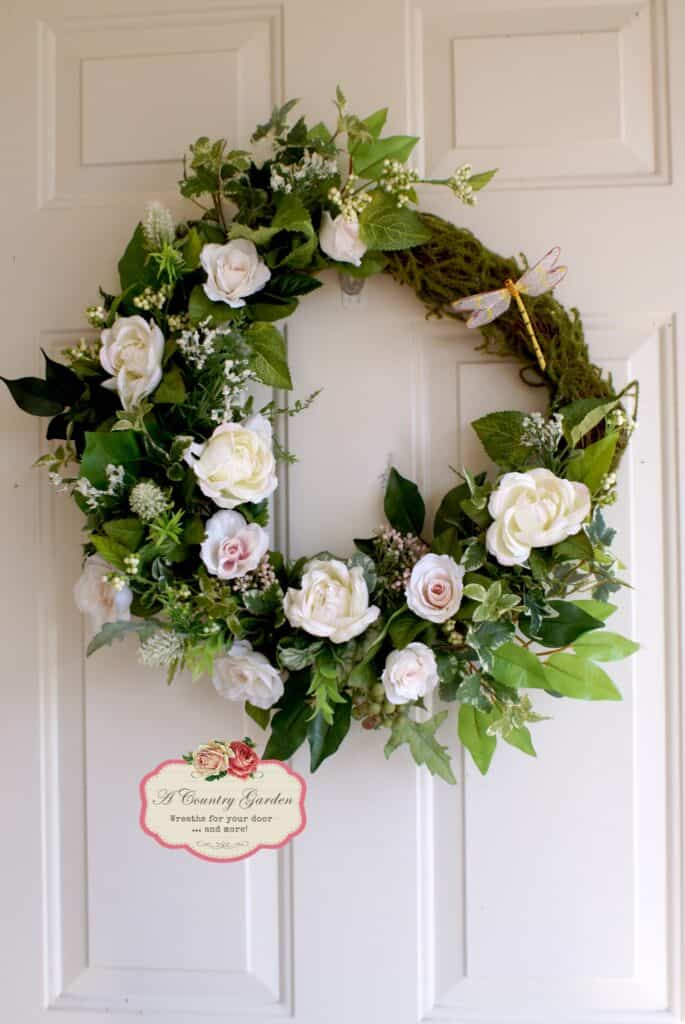 Wreaths, Swags, and Teardrops as Décor elements for all seasons and holidays
We all love our doors, front or back doors, to be beautifully "dressed" for all seasons, holidays or every day. Your door décor is often the first thing guests see when entering your home and it creates such a welcoming ambience whether it is an elegant grapevine wreath, full of gorgeous faux florals and greenery, a fun Halloween creation or a gorgeous lighted Christmas creation to celebrate the season.
A decorated door just makes me happy and makes my porch décor complete! It also stands out in the neighborhood and tells people a lot about your decorating style and even your personality with what you choose!
Of course, wreaths are by far the number one choice for door décor, but today I want to discuss the various floral choices for your door and also how and where you can use these besides the front door. So let's get started!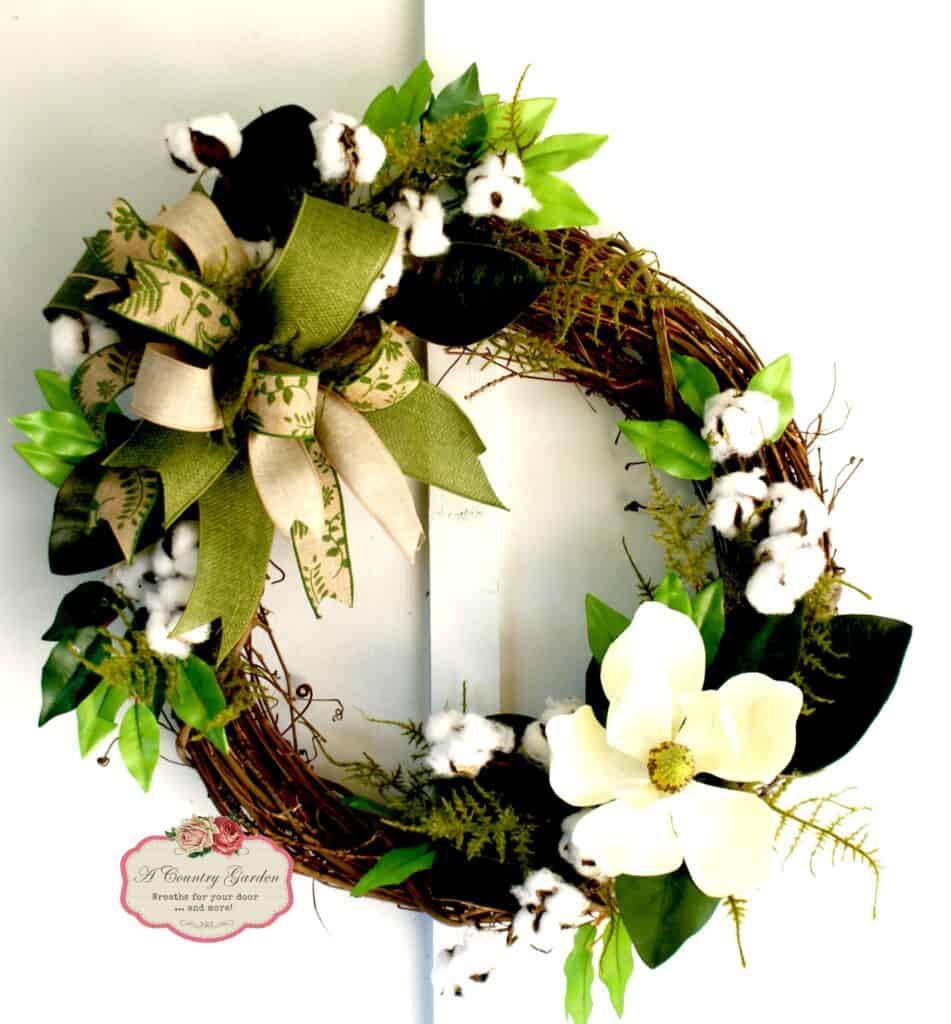 Wreaths are the most used form of door décor, especially for Christmas Wreaths look lovely on all kinds of doors and colors of doors and come in all kinds of styles and sizes.
Most standard front doors are 36 inches – and an 18 inch 24 inch to 26 inch wreath is perfect for this size. You want space around your wreath on the sides and top. You don't want the wreath to be the same width as the door.
Largers doors can, of course, handle larger wreaths – just allow room on the sides and top . Allow from 2 inches to 6 inches on each side of your wreath.
Of course, larger doors handle larger sized wreaths.
For double doors, you can always request a custom order of matching wreaths – one for each door.
For walls, inside or outside, above mantels or even on entryway or stairway landings wreaths up to 60 inches can be custom made to fit your space, style and décor.
Smaller wreaths look lovey on pantry, laundry room, bedroom or even bathroom doors.
But wreath décor doesn't stop there.
Lay decorated wreaths flat on dining tables or buffets for a gorgeous centerpiece. Add a hurricane filled with Easter eggs, mini pumpkins, Mardi Gras beads, hearts, or Christmas ornaments. And don't forget candles in the center for a different look.
I have used these "floral rings" to cradle a punch bowl for parties or even wedding and anniversary celebrations. Or use a smaller wreaths as a base for for a decorative cake stand to show off a tasty creation or even more decorative holiday elements elements or even candles.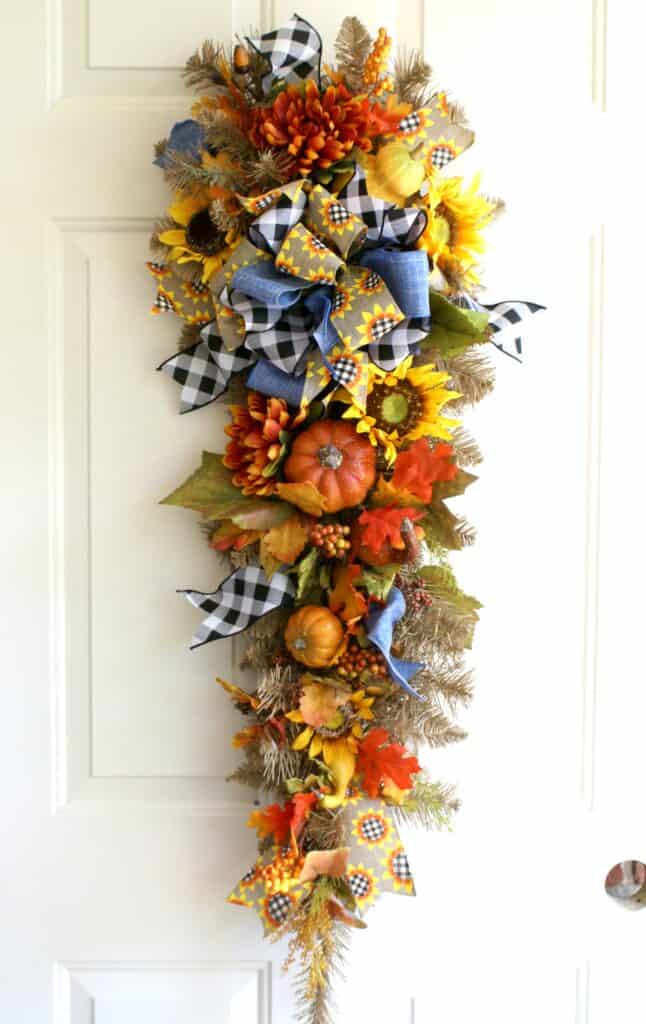 The next type of door décor is a swag. They are usually longer than they are wide, full of all sorts of florals, greenery and holiday decorations as well as bows and lots of ribbon.
They look really good on extra-large front doors. And, they WILL get noticed.
But they can also be used on a narrow space as a focal point like a stairway landing or the end wall in a hall or the hall in an entryway.
There are also a couple of other swags types that you can choose for your door décor as well.
I love crescent swags and they come in a variety of sizes for a variety of uses.
These are good choices for a smaller door and the gentle curve looks especially good above (or below) a glass portion on doors such as cottage style doors. Again, most are full of florals and greener as well as holiday decorations and ribbon.
Inside, they look beautiful over a doorway or arched opening.
In the kitchen they look lovely above a kitchen window, on the front of an island, or on the hood above the stove.
Use them above a hutch or a buffet in the dining room.
The smaller ones work beautifully in the bedroom above the bed for a wall vignette or in a hall or staircase photo gallery.
These swags come in so many different designs and materials for every season and holiday.
They can be designed with all sorts of faux florals and greenery or cute embellishments for holidays and can even be lighted.
Add bows and ribbons or even signs and they make a beautiful accents for any door and any room.
They work especially well for back doors or side doors and also for the back of doors for a cute holiday touch or seasonal color.
Teardrop swags come in various sizes as well.
So, don't be afraid to think outside the box about where you might use one of these décor elements for you home. They will get comments from family and friends and really add interest to your style and your home décor.
We have all kinds of wreaths and swags in styles ranging from farmhouse to country to French country and whimsical for all your seasonal, holidays and year round decorating.
To see all of our swags and wreath styles and other designs, be sure to check out my ETSY shop at: www.acountrygarden.etsy.com And be sure to sign up to become a member of The Garden Club to receive more ideas on decorating with faux florals and greenery for seasonal, holiday and every day decorating as well as be the first to know about new designs or sales in the shop and more.
Please follow us on Facebook, Instagram and check out my decorator boards on Pinterest.
Thanks for stopping by.
Happy Decorating,
Karon
Check out the recent Redfin article we were featured in:
Stunning Wreath Decorating Ideas to Adorn Your Home All Season Long
When it comes to festive decor, wreaths are undoubtedly one of the most popular and classic options to bring holiday cheer to your home. And with so many different options, from classic florals to show-stopping festive ornaments, decorating with wreaths doesn't have to be limited to just the holidays – with a few simple swaps, you can seamlessly transition your wreaths to suit the season.
Redfin reached out to us and other experts from Victoria, BC, to Tampa, FL, for our best wreath decorating ideas to adorn your home. Whether your style is whimsical and playful or rustic and organic, take a look at these wreath design ideas to find one (or a couple) that'll speak to your home's aesthetic. 
You can find here here:
Stunning Wreath Decorating Ideas to Adorn Your Home All Season Long