I am a planner – I admit it. I like to have all my "little ducks in a row" as they say.
So, it is no surprise that I like to start my Christmas planning in July. Here we are with only about 4 months till we start decorating (5 if you don't start until December).
Yes, it's hot outside…in July… especially here TEXAS. And, I'm starting my Christmas planning.
Enter my little red book. It is my Christmas planning tool. But at least I know when October gets here, what I still need to do.
But, believe me, planning now will help relieve stress come December 1st. Trust me.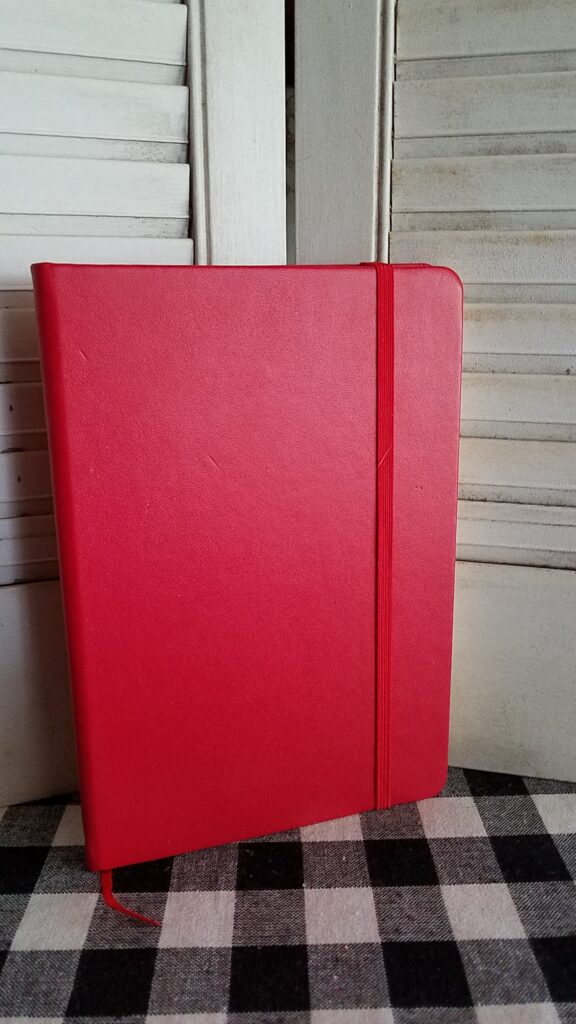 Each year I put down all sorts of info in that little red book: menus, things that worked (and things that didn't), what decorating themes I used, my decorations, what I got on sale after Christmas, what I still need to get before decorating, presents bought (and where they are) …well you get the message.
Twice a year, I spend some extra time in the journal – in July for planning the upcoming season. In January when I inventory and pack up the decorations. I put in what I have, what I need, what worked, what didn't and ideas for next year while everything is fresh in mind.
All through the year I write down ideas as they come, especially presents bought, wish lists, sizes, etc.
Here are few tips to start your own Christmas planning adventure.
Your "book" can be anything you want: notebook/dividers, a journal, fancy, plain…
Brainstorm for the upcoming season writing down all things that pop into your mind. Then refine, and put into your journal in some kind of order (it will change year to year).
Buy presents all year long – save money when you find the perfect gift and it's on sale. – Less stress
Look for bargains when decorations go on sale (like in Hobby Lobby in early fall).
Keep a current size list and "likes" or favorite colors or styles
If you send out Christmas letters or cards, keep your list of addresses in your book
TIP: buy Christmas cards on sale at the end of the year and then
address them in the summer and all you have to do is write a note
sign them and off they go the first week of December! Less stress.
Keep a list of lights, greenery, ornaments, and other decorations you want to get. Less stress when you get them out to decorate
If you find a recipe that you want to try for next year, add it in. Like Christmas cookies…hmm…
Add in simple monthly calendars for July – December to pencil in special dates
Once you actively start working on all your seasonal activities, you have everything in one place – easy peasy.
Oh, and did I mention is makes the season LESS STRESSFUL?
Now, here are a few other tips for pre-planning to make the season less stressful:
Shop early and all year long or as you have extra money. And, yes some things, like toys, will need to be bought closer to Christmas. But, you will find that paying a little out at a time is better than having to pay a huge credit card bill in January or interest on the amount for months or even all year long.
Set a budget and stick to it as close as possible.
Have a pretty Christmas box that has tags, pens, tapes of all kinds ready to go when you wrap like this one – less stress!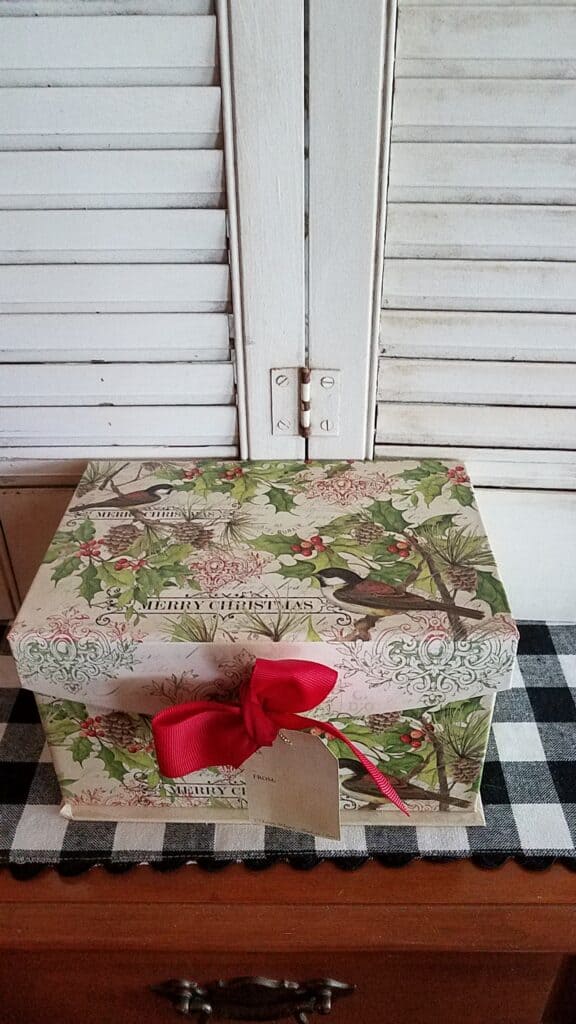 Wrap presents as you buy them. Yes, I have wrapped on Christmas Eve and it is so stressful, you're exhausted the next morning, miss out on the joy of it all. Put on Christmas music (or watch Hallmark Christmas in July movies) and having a wrapping marathon a couple of times during the summer. You'll be happy you did when December arrives. Cuts down on stress!
Wrap the present, put on a tag on it and store it somewhere safe until you're ready to put a bow on it.
Be sure to write down where you put the present in your Christmas book. Lots less stress!!!
Designate a closet, under bed in a box, wherever you have extra room. Without bows, they are
easier to stack and store.
Make a bucket list of things you want to do this holiday season by having a Christmas in July Bucket List Supper – so everyone in the family has a say. You can even bake some Christmas cookies or cupcakes for dessert (call it a trial run for the season. Discuss activities and things everyone would like to do, then pencil in possible dates in case they change (and they probably will once the kids go back to school).
Plan out your inside and outside decorations – it doesn't have to be super detailed. Just jot down themes, colors, by rooms or vignettes, outside, inside, the tree or trees. By rooms, areas, however you decorate. As you find décor you would like to try (enter PINTEREST), jot it down. As you shop for décor, you will have a list or ideas of what you might need.
TIP: If possible, when you take down decorations and pack them up and if you have enough containers, pack up boxes by areas: coffee table, mantel décor, entry tabe… Be sure to label it or even better make a list of what's inside!
Finally, take your book with you when going on buying sprees for decorations or gifts.
TIP: IF you have the storage room, be sure to stock up on wrapping paper, ribbons, tags, tapes and other gift-wrapping supplies when they go on sale at the end of the season! You'll be ready to wrap as you get the packages.
Keep your book, notebook, journal up to date and be sure to look at it all through the year.
TIP: If you love to decorate for all the seasons and holidays like I do, then you can easily slip in some pages for "other holidays" and keep notes, make lists, and plan for those as well.
I hope these tips help everyone to have a much less stressful holiday season!
Happy STRESS FREE Holiday Decorating!
Hugs,
Karon