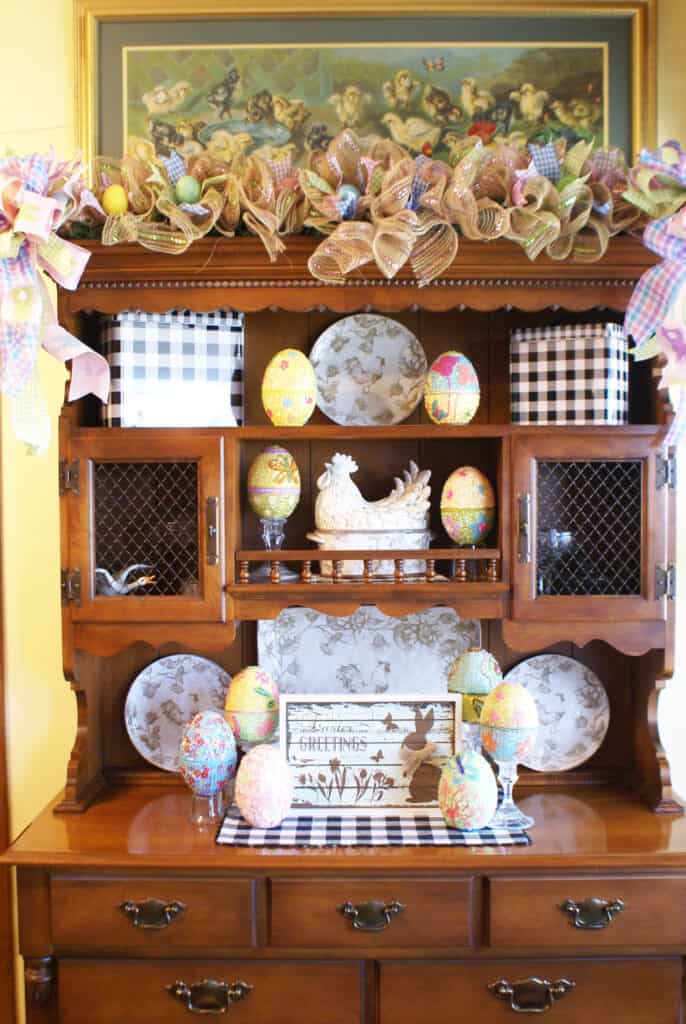 I think everyone this year was ready to get up spring / Easter décor after the ice apocalypse. We needed things to remind us that spring is near, new life, new beginnings. All those soft spring colors and all that grand, glorious, green that spring is known for just sort of makes you smile, doesn't it?
This year for my Easter décor, I used what I had on hand from my collection of spring items to decorate the hutch in the kitchen. Using items from your decorating collection is so much fun and you can always find a way to use it as you haven't in the past.
Here's something I find helpful:    If you find something you love, but don't know how to use it (and it is a great price as well), buy it, even it you have to store it for a while because suddenly one holiday, season or just when your are  redoing vignettes for every day decorating, you'll find it is the perfect addition to your décor! 
OK – Here's how I designed it.
Of course, each year the focal point for my Easter décor is always my wonderful collection of my Godiva Easter eggs that a sweet wonderful man has given me each Easter for many years. A couple of years they didn't do eggs and he gave me the Easter Bear for that year.
On a sad note,  the Godiva Chocolate Store in Ft. Worth is closing (where he gets these amazing Easter eggs)  and I have a feeling the tradition may have come to an end!!     SIGH!
Since I love having some sort of "garland" on the top of the hutch, I decided to take a small piece of mesh with lavender, pink and green foil stripes running through it and make a mini garland for the top, adding in blue, green, pink and lavender check ribbons. Checked ribbons are a staple for spring and especially Easter.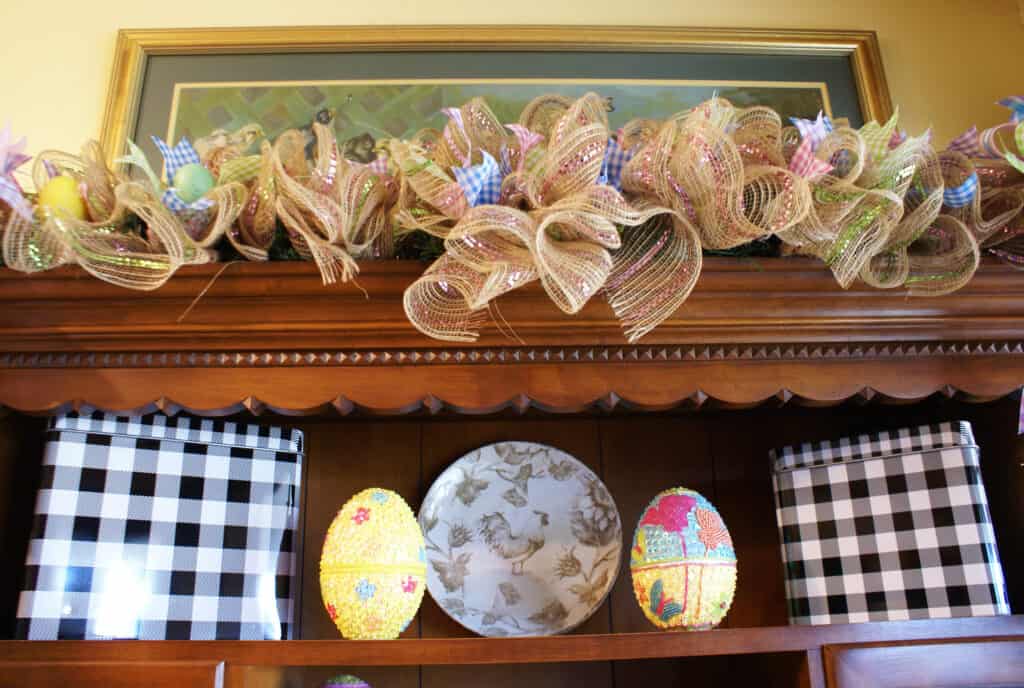 Then I added in speckled colored Easter eggs to match the ribbons. This mini garland worked so well and came out so cute, I will be making them for more seasons and holidays and everyday designs for the shop! I really love how it turned out and I have a lot of ideas for these.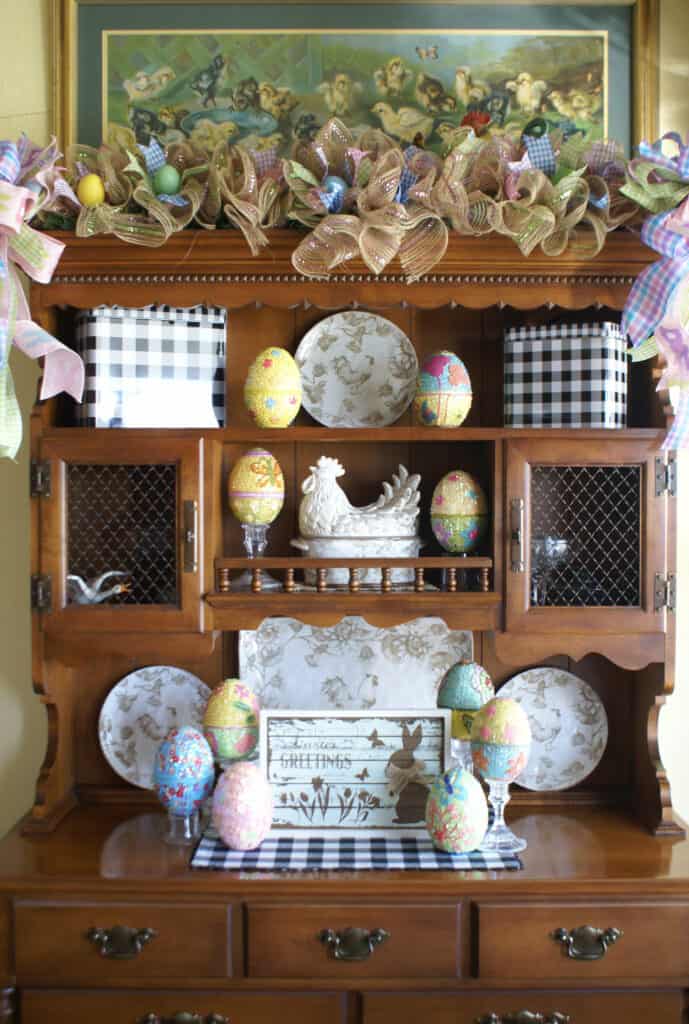 Next, I left the dishes there as a background – some salad plates and the platter to my new Toile Rooster dinnerware by Susan Winget from Certified International. It is absolutely beautiful and the soft neutral colors make it very versatile. Plus it makes a beautiful table setting.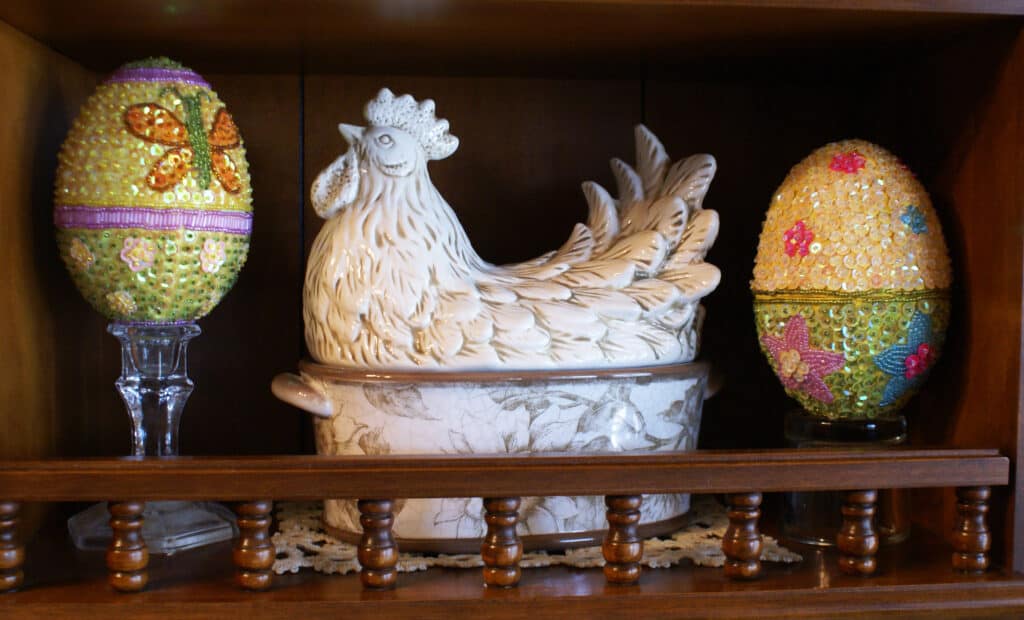 This is the hen on a nest covered bowl. Isn't she lovely?
I then arranged the eggs on various shelves.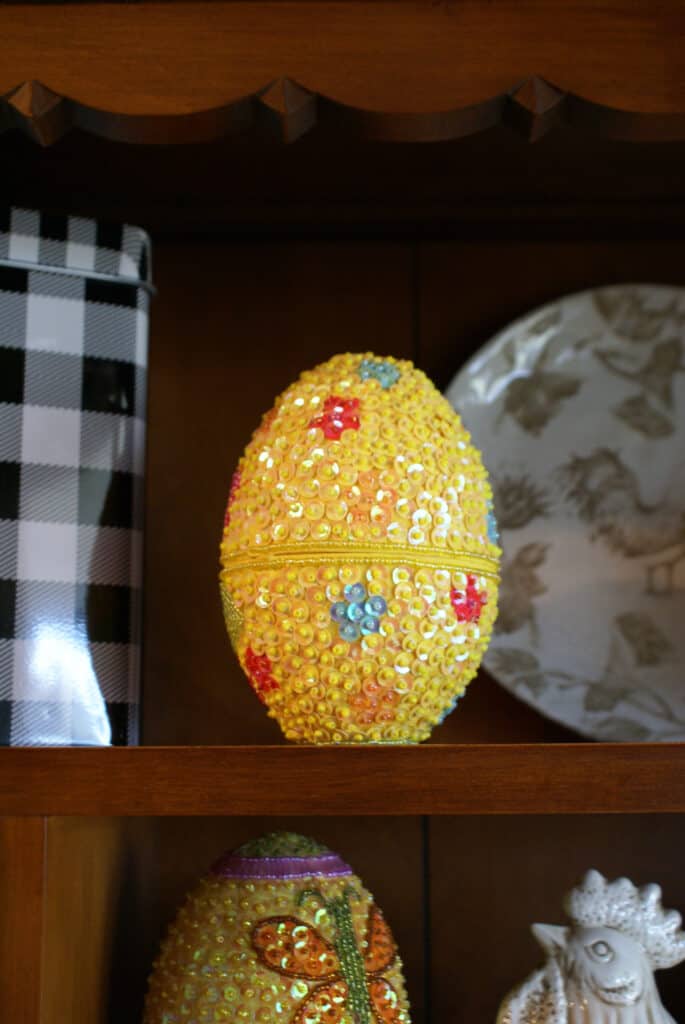 One of my little decorating secrets:     I used clear candleholders and votive cups to act as stands to place the eggs at various heights which is so important when creating vignettes.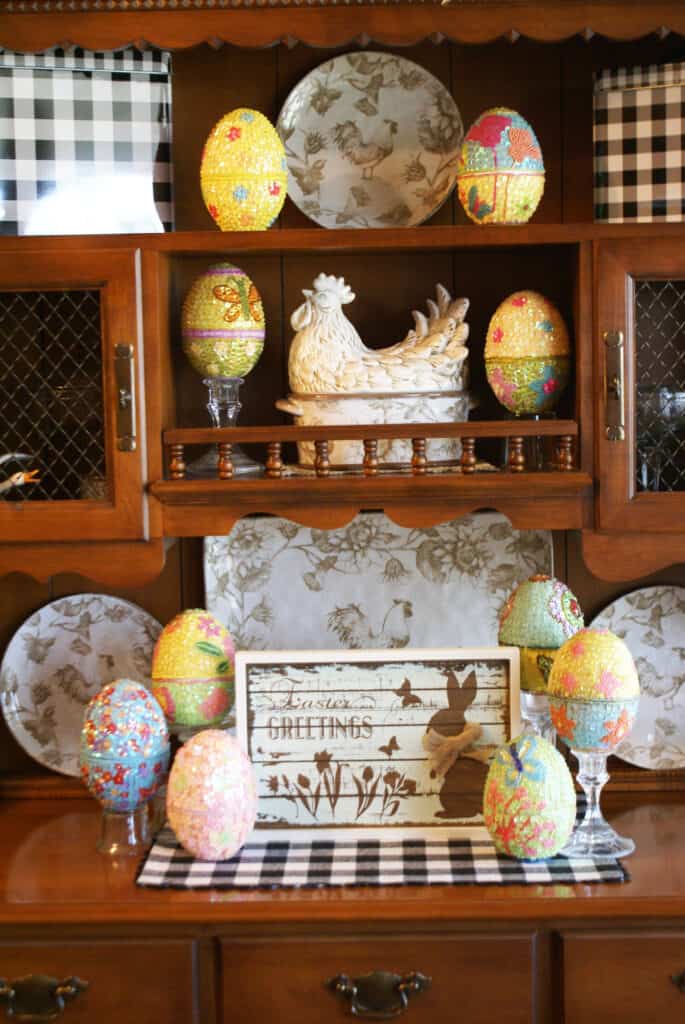 Of course, being a ribbon and bow addict, I added a couple of bows to the end of the mini garland that included three types of ribbons: a cute pink bunny ribbon, a green and white checked ribbon and a lavender spring plaid! I think they are adorable.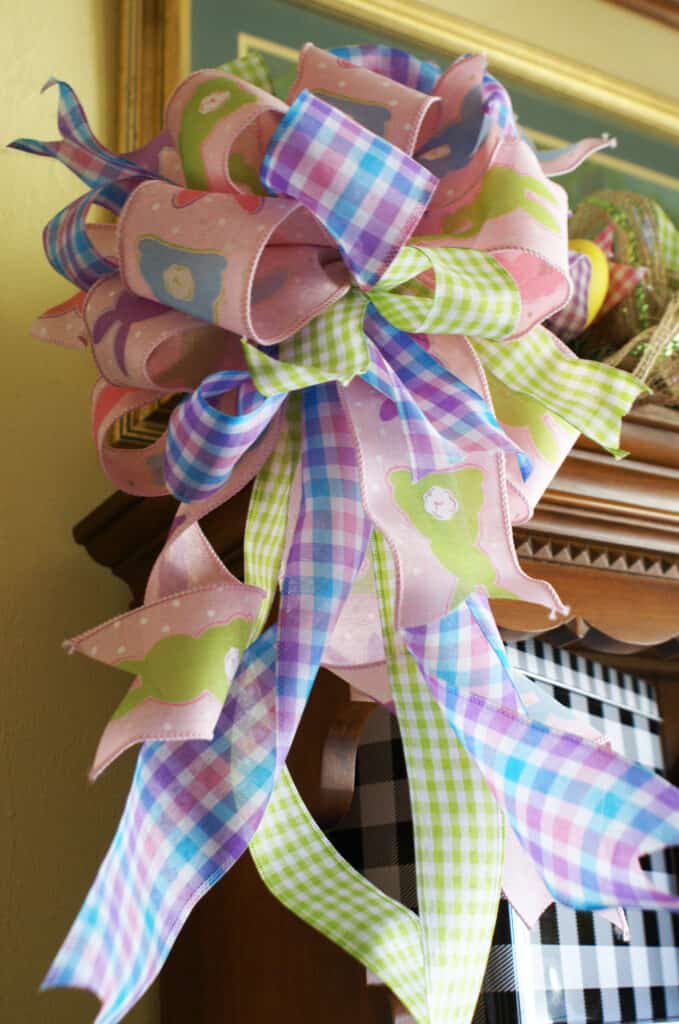 Next, I added this adorable sign in shades of soft green and cream with a "chippy wood" background!  You guys know how I love chippy wood anything,    And, that cute rabbit silhouette sets it off! Aren't these eggs gorgeous?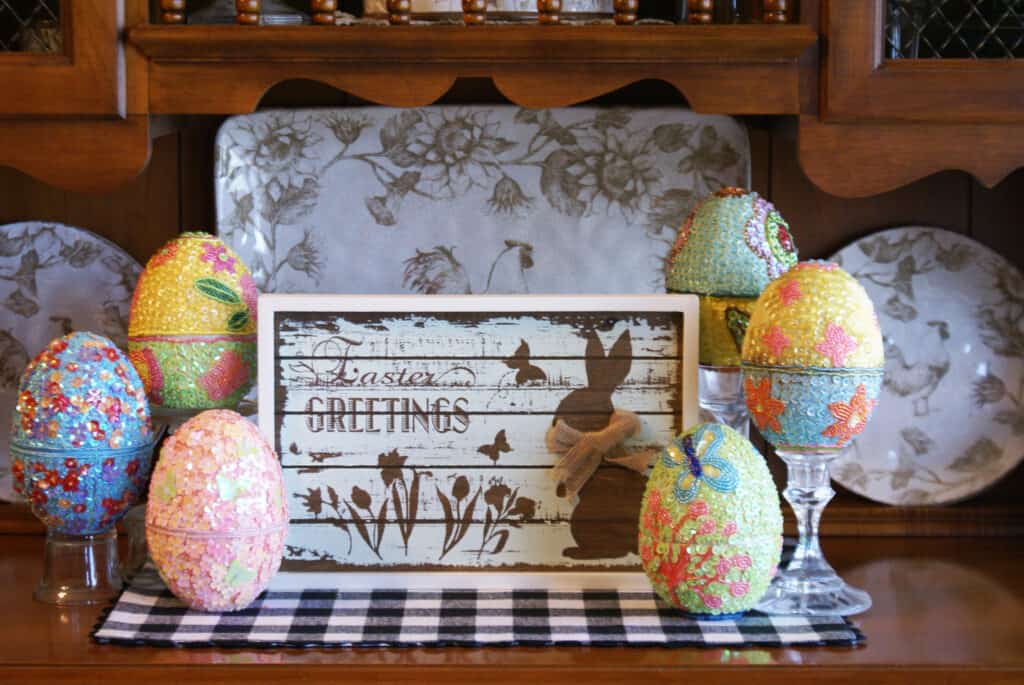 I anchored the eggs and the sign with one of my black and white buffalo check place mats (which match the dining table). (I found these on line at Home Depot along with my patriotic, red white and blue placemats). And they are reversible with a small black and white check on the back!! So cute!! I also have napkins that match.
And I left my two buffalo check tins (that I found at Hobby Lobby and just had to have) on the top shelf to tie in the b-check.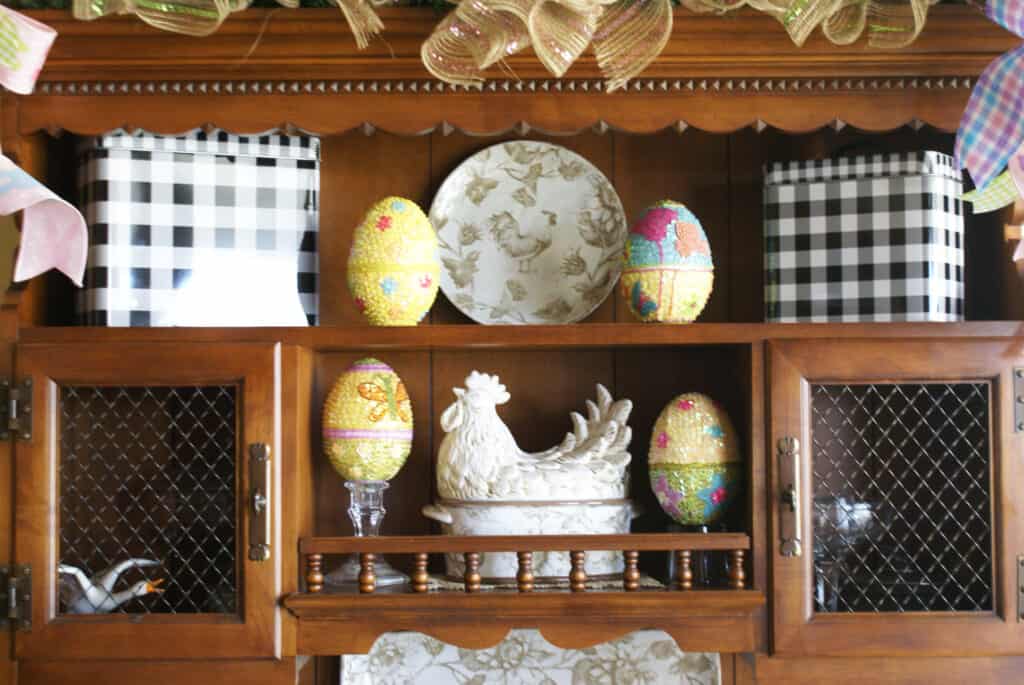 That picture above the hutch was one of  my mom's antique pictures – it is called a "yard of chicks".  She had it matted and framed and it certainly works well with this décor, but it stays there all the time.   They were popular  during the 1890s  and the early 1900's.  I also have her "yard of roses" as well which hangs in the hall.  There was also a yard of puppies and a yard of kittens that belonged to my aunt. These adorable little chicks fit right into my spring hutch.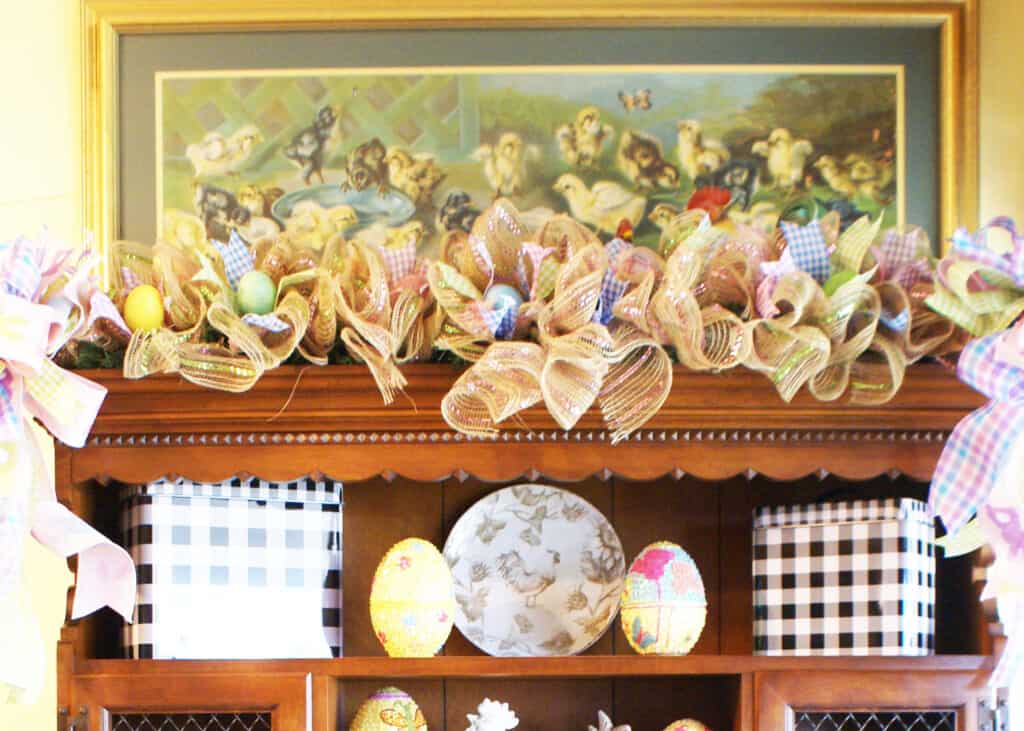 I really love the way the hutch turned out.   I usually leave the eggs up for half of March and a big part of April before I change it for May.  
I would love to know what you think of my little vignettes and how you decorated for Easter / spring this year.